Revolutionizing Omega-3s Since 1995
In 1995, Joar Opheim introduced odor-free and taste-free fish oil to the United States. And with it this promise—that the power of omega-3s, made accessible to all, could change the world.
Today, from sunrise in Norway to nightfall in California, in 35 countries on 6 continents, people aren't just talking about the power of omega-3s, they're living it.
And we're just getting started.
Family owned, Nordic Naturals has a broad, 150-year perspective. As we imagine a healthier future, we are guided by our "true north"— reverence for our rich traditions and heritage, coupled with deep respect for the latest research and technological advances.
This keeps us mindful of our impact on people and the planet, while inspiring us to innovate, to push boundaries, and to always do what's right at any cost.
Our commitment? To make the world's safest, most effective nutrients essential to health.
Our goal? Generations of healthier, happier people around the world.
Our time frame? As long as it takes.
Vision-Driven and Family-Owned
Harnessing heart and soul to make the world a healthier place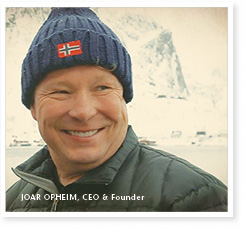 Nordic Naturals was born in Arctic Norway where founder Joar Opheim grew up, and where fish oil is a part of everyday life.
"Growing up, I never knew anyone who didn't take fish oil to stay healthy," Joar recalls.
When he came to the U.S. to complete his MBA in the 1980s, he was astonished that he could not find the quality fish oil he had become accustomed to. Because he relied on fish oil to manage his old gymnastic injuries, he found himself bringing bottles from Norway—filling his suitcase on trips back and forth.
He began to realize that not only in the United States, but also all around the globe, there was a lack of high-quality fish oil. As a result, his personal mission emerged: He would bring the benefits and long-standing Norwegian tradition of high-quality omega-3s to the world.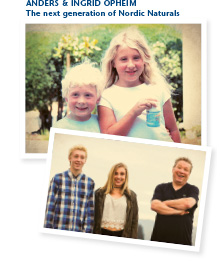 Thanks to his vision, Nordic Naturals begins our manufacturing with the end in mind, carefully managing every step of the process in order to offer the highest quality fish oil on the planet.
Joar has helped to shape standards for an industry that had few guidelines in place. Today, Nordic Naturals is the #1 fish oil in the United States and a global leader in the omega-3 marketplace.
"In order to continue to bring our vision to fruition, Nordic Naturals will remain family owned," Joar states. "The past 20 years has required deeply committed work from myself, my family, and our dedicated employees, and there is still more to do."