Baby's Vitamin D3 Liquid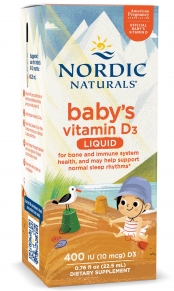 Available Quantities/Flavors:
0.76 oz Liquid-Unflavored
Log in to Purchase


400 IU (10 mcg) Vitamin D3 per serving

Promotes bone and immune system development in infants ages 0-12 months*

May help support normal sleep cycles*

Includes measured dropper for easy and accurate dosing

Made with organic extra virgin olive oil
Baby's Vitamin D3 liquid makes it easy to give your baby the American Academy of Pediatrics recommended daily dose of essential vitamin D to support healthy infant development.*

For infants through 12 months, 0.25 mL daily, or as directed by your pediatrician or healthcare professional.

* These statements have not been evaluated by the Food and Drug Administration. This product is not intended to diagnose, treat, cure, or prevent any disease.